Lenovo has unveiled its three next generation Yoga Tab 3 Tablets at IFA event going on in Berlin. These three entertainment-focus based tablets called the Yoga Tab 3 Pro and Yoga Tab 3 (8-inch and 10 -inch variants) .
The Yoga Tab 3 Model comes with 10-inch screen ( 1280 x 800 pixels ),both 8-inch and 10-inch are powered by 1.3GHz Snapdragon 212 processor paired with 1GB of RAM with 16GB inbuilt storage which can boost memory via microSD card and the device will run on customized Android Android 5.1 Lollipop.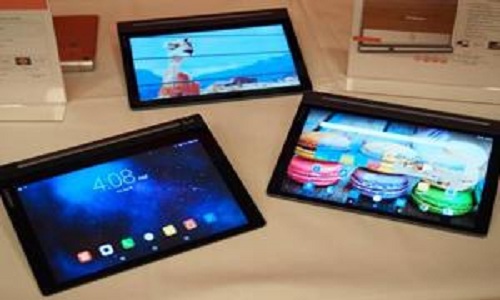 On the camera front, both the devices it is equipped with rotating 8MP camera, only the difference between 8-inch and 10-inch models are that Yoga Tab 3 8-inch model is slender than the 10-inch model and the other difference is 8-inch model Tab comes with 6200mAh battery and 10-inch model is fueled by 8700mAh battery. Both the Tabs comes with 4G LTE and 3G connectivity.
Now in terms of their costs 8-inch Lenovo Yoga Tab 3 will be available at a price of $169 (approx. Rs. 11,155) from October 1 and 10-inch Yoga Tab 3 can be purchased at $499 (approx. 32,938) which will be available from November 1. Both the devices comes in Slate Black.
Now coming to the features of Yoga Tab 3 Pro, it sports a 10.1-inch display with 2560 x 1600 pixels resolution and it is powered by 2.24GHz quad-core Intel Atom x5-Z8500 processor clubbed with 2GB RAM. The tablet comes with 32GB/64GB of expandable inbuilt storage.The device draw its power from 10,200 mAh battery and runs on customized Android 5.1 Lollipop.
It is equipped with 5-megapixel front shooter and a 13-megapixel rear camera. In terms of its connectivity it comes with 4G LTE and 3G connectivity.
It also have a variety of features such as 70-inch projector screen and four-front facing speakers. The cost of the tablet priced at $393 (Rs 26,016) for Wi-Fi version and $672 (Rs 44,486 approximately) for the LTE version.
Yoga Tab 3 Pro will come in Puma Black and will be available from November.