After launching its K480 Multi-Device Bluetooth Keyboard in July, Logitech launched its K380 Multi-Device Bluetooth Keyboard and the Logitech M337 Bluetooth Mouse on Friday at IFA trade show in Berlin.
K380 Multi-Device Bluetooth Keyboard can be connected to any device like Desktop, smartphone, Tablet etc. The keyboard consists of a programmable switch, which enables move the keyboard between devices. Once the button is switched the keyboard automatically recognizes the device to which it is paired and maps its keys to support its functions. The keyboard is included with AAA batteries will power the keyboard up to three years.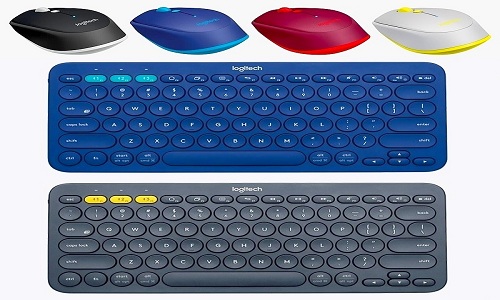 The K380 Multi-Device Bluetooth Keyboard weighs around 423 grams and is compatible with Windows 7, Windows 8, Windows 10, OS X 10.10 and later versions. The keyboard also supports with Chrome OS, Android 3.2 and later, iOS 5 and later, and Apple TV. It also sports a power switch, with Battery and Bluetooth LED indicators and has a maximum range of 10 meters. The keyboard comes in Blue and Black colors and will be available from september at Rs.2,795
Logitech M337 Bluetooth Mouse features a navigation button which provides a list of functions including Mission Control or  bring up Task View on Windows 10. The mouse sports a textured rubber for better hold and optical laser which ensures it is trackable on any surface. It is included with single AA batteries which last for upto 10 months. The mouse weighs around 82 grams and  measures 100.5×61.1x33mm. It also contains a battery LED indicator and comes with a maximum range of 10 metres. It will come in Black, Grey, Blue, and Red colour variants at Rs.2,345.