Lok Sabha Speaker Sumitra Mahajan suspended 25 Congress MPs for five successive days. Speaker suspended members are Santok Singh Chaudhary, Sushmita Dev, BN Chandrappa, Ninong Ering, G Sukender Reddy, R Dhruvanarayana, S Kodikunnil, Gaurav Gogoi, SP Muddahanumegowda, Abhijit Mukherjee, Deepender Hooda, Mullappally Ramachandran, S Kodikunnil, BV Nayak, MK Raghavan, KH Muniyappa, Vincent Pala, T Meinya, Ranjeet Ranjan, Ravneet Singh K, KC Venugopal, CL Ruala, Rajee Satav, T Sahu and AHK Choudhury.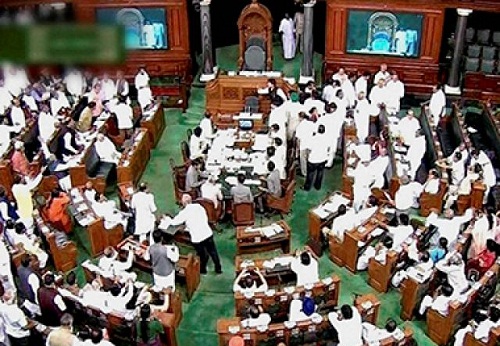 All the 25 Congress members were carrying placards and yelling slogans in the well pressuring resignations of Rajasthan Chief Minister Vasundhara Raje, Madhya Pradesh Chief Minister, Shivraj Singh Chouhan and External Affairs Minister Sushma Swaraj. Action was taken under Rule 374 (A), speaker said members were suspended for 'persistently, willfully obstructing the House'.
Speaker stated, "I am sorry…You have to come to the Well of the House…You have been persistently and willfully obstructing the business of the House."
Preceding over the session she provoked that none of the listed members can attend the five sessions at the house. Which means from a total of 44 MPs only remaining 19 will be attending the following sessions thereafter. Congress President Sonia Gandhi and Vice President Rahul Gandhi held discussions with few other opposition party leaders and did not leave the House for some time. Along with the suspended members other 9 opposition parties RSP, TMC, CPI, NCP, RJD, CPI(M) AAP and Muslim League took decision to boycott Lok Sabha for five days.
Rule 374(A) says : "Notwithstanding anything contained in rules 373 and 374, in the event of grave disorder occasioned by a member coming into the well of the House or abusing the Rules of the House persistently and willfully obstructing its business by shouting slogans or otherwise, such member shall, on being named by the Speaker, stand automatically suspended from the service of the House for five consecutive sittings or the remainder of the session, whichever is less."