The Madras' High Court proceedings were transmitted live for the first time in the history when disdain of court procedures against two Madurai-based Bar leaders were brought up regarding the anti helmet rally taken out by legal counselors in that city a month ago. The procedures were channeled live on a 55cm LED TV installed far from the court corridor No.4 and blockades raised around it to avoid passage of lawyers. A camera was put inside the court hall.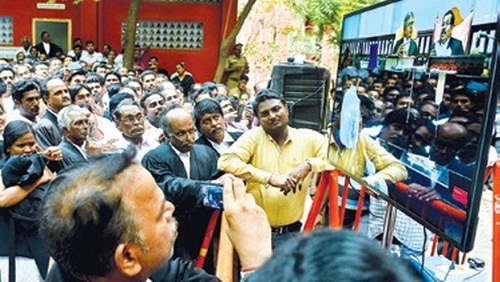 Tamil news channels secured the live radiating of the proceedings. Subtle elements of limitations and efforts to establish safety are being published in the court's reason list for as far back as three days. Madurai Bar President P Dharmaraj and Secretary Association A K Ramasamy are confronting disdain of court procedures regarding the anti-helmet ruling rally by legal advisors in Madurai a month ago.
Amid the September 16 hearing to a group of around 100 advocates who came in three buses from Madurai, had made a ruckus in the passages of a court hall here as suo motu hatred proceedings against the two leaders of Madurai Bar Association were heard in- camera. In spite of extensive security, including CCTV cameras, raised in foresight of trouble, the claimed supporters of the two leaders had occupied the corridors of Court No.4 and yelled slogans subsequent to being banned from entering the hall where the matter was heard by a bench. The two-judge bench conveyed a split verdict and that the CJI will settle on a greater bench hearing to the contempt proceeding, advocate Paul Kanagaraj said that he trusted court will never witness such cases.