K Chandrashekar Rao, the Chief Minister of Telangana had visited to Maharashtra to discuss about water projects in Telangana. KCR also took Irrigation minister Harish Rao with him. Maharashtra Chief Minister Devendra Fadnavis and Telangana Chief Minister discussed about various water projects and made a agreement on various Irrigation projects on river Godavari.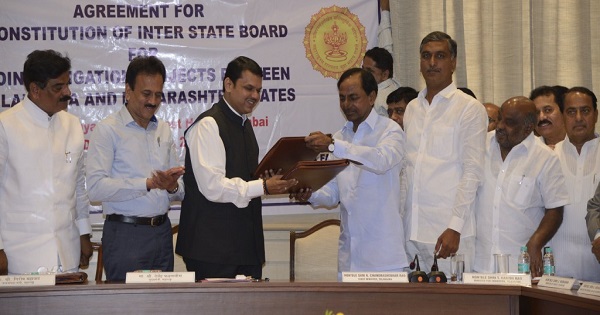 Maharashtra Chief Minister Devendra Fadnavis with Girish Mahajan who is Irrigation Minister is going to visit Hyderabad to make a action plan for two-states irrigation project. CM KCR had announced his achivement of water projects in Telangana to the Farmers of Karimnagar who had visited to his camp office.
KCR successfully convinced the Maharashtra Chief Minister Devendra Fadnavis to make an agreement which consists of constructing five reservoirs in three rivers. Telangana Chief Minister K Chandrashekar Rao, Irrigation minister T Harish Rao and a team od engineers went to Mumbai to sign the agreement on March 7th.
Action Plan For Water Projects
The three rivers were the project is going to construct reservoirs are Godavari, Pranahita and Penganga. This project has been approved only after KCR's brief explanation about the benefits of both the states Maharashtra and Telangana to Fadnavis.
In tis project Telangana will construct three reservoirs and the rest of the two are constructed by Maharashtra government. Telangana government will construct the reservoirs at Medigadda, Sundilla and Annaram on Pranahita and Godavari. Coming to Maharashtra government they will construct on Penganga. Rajapeta and Penpahad are the places were they are going to construct reservoirs.
R Vidyasagar Rao, who is the Irrigation adviser of Telangana said that these project will change the destiny of Telangana. He also gave a statement that it is one of the major victory for Telangana government. He also told Kaleswaram project will also be completed as soon as possible.
Harish Rao told that they are receiving unwanted comments by opposition parties, because they know that after the completion of these projects there is no future for them.
Telangana state government has issued Rs 71,000 crore for the completion of the project. All this was done only by KCR which in turn reduces the deforestation in the state. KCR had edited and revised the design of these project and finally submitted to Maharashtra government. Later he spoke with Fadnivas on phone and explained him the benefit of the project for both the states.
The main aim of this project is to provide water for backward areas were we don't find water for cultivation and the places include Warangal, Khammam, Adilabad, Karimnagar and Nizambad districts.
Padayatra Of 202 Km Made By Farmers To Thank CM
About 210 farmers visited CM camp office from Julapalli in Peddapalli by walk. They also carried Godavari water in silver pots to wish CM. They nearly walked 202 Km in eight days. KCR welcomed farmers, received the pots brought by them and arranged lunch for farmers. KCR also congratulated farmer Raghuveer Singh who led Padayatra.