Prince 'Mahesh Babu' and 'Shruti Haasan' who have voted No.1 in Hyderabad Times Most Desirable Men and Women list consequently must be the most good looking actors in Tollywood. Film makers might have great pleasure working with duo. But when one concentrate over onscreen chemistry, many things will be considered more than allied attractiveness, infer shruti. This multi-talented actress will be soon watched on silver screen romancing Mahesh Babu in Srimanthudu, playing a role of Hyderabadi girl Charusheela in a character of multi-millionaire Harsha's love interest played by Mahesh.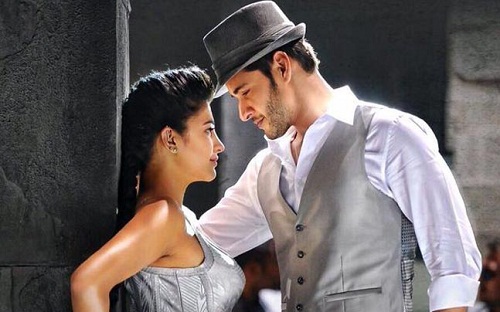 As the film is soon going to hit big screen, Shruti shared her working experience with the team unit saying,
"What you see on screen is just make believe and 'chemistry' is a lot more than good acting. It all boils down to the script, characterizations, the dialogues, cinematography, comfort level with the co-star and the works."
She shared her working comforts with Mahesh, he is much relaxed person who has complete focus on performing his role. She felt comfortable acting with Mahesh sir who was piece quite and attentive on acting. She also said Mahesh 'Sir' is not so friendly.
It seems Shruti Haasan was left with high impression on her co-star. Mahesh Babu conceding himself a big fan of Mr. Kamal Haasan, said,
"I've loved watching Kamal Haasan's films, I never thought I'd act with his daughter one day. Shruti and I have some really good scenes together in Srimanthudu. She is so natural and working with her was extremely easy. She is very professional and is very passionate. Shruti is such a bundle of talent a good dancer, singer. But not many know that she is very natural actor."