Everyone knows that Mahesh Babu is very conserved and does not take part in any talk shows game shows. As part of his upcoming movie Brahmotsavam promotional campaign, Mahesh babu will appear as a Celebrity Guest in a Popular Talk show In Zee Telugu. The superstar will be seen in Pradeep Machiraju show 'Konchem Touch Lo Unte Chepta'. The show is aired on 22nd May 2016.
Mahesh Babu Konchem Touchlo Unte Chepta Show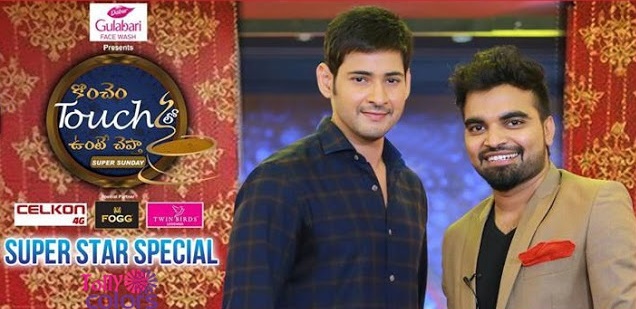 A promo has been released recently in which Mahesh Babu was seen laughing a lot and the reason for that is the host Pradeep Machiraju. We all know that Pradeep has good sense of humor and in this show he always makes the guest laugh with his hilarious jokes. The show began with a funny question by pradeep asking Mahesh babu to pinch him to confirm whether the prince has really come to his show.
Mahesh Babu KTUC Tv Show Full Video Watch 
Also See : Brahmotsavam Movie Review
There is also a video in the show from superstar son Gautham Krishna wishing him a great success for his Brahmotsavam. Thereafter, After that pradeep showed mahesh babu the Businessman' spoof from the previous episode of tamanna. mahesh babu reacting to these videos and answering some funny questions of pradeep really makes its worth watching.
Koncham Touchlo Unte Chepta Mahesh Babu Episode Full Video Watch Here
Mahesh Babu About ileana In Koncham Touchlo Unte Chepta Show
Konchem Touch lo Unte Chepta Mahesh Babu About Sitara Dancing on Rama Rama Song
Mahesh Babu Konchem Touchlo Unte Chepta Show Full video
https://www.youtube.com/watch?v=f2AJ5kcadNc