Mahesh Babu latest film Brahmotsavam released on 22nd May 2016. There was high exceptions on this movie. Distributors invested a lot of money on this movie hoping it will be a super hit. Mahesh Babu is a super star and has a huge following in the south and there was a huge craze for this movie before the release. Distributors were confident that they will earn a huge profit with Brahmostavam movie. But every thing turned around and gave a big blow to the film unit and distributors after the release.
Mahesh Babu To Return His brahmotsavam Remuneration
Brahmotsavam has failed miserably at box office collections. Movie received many negative comments after the morning show. Social media was flooded with trolls on Mahesh Babu Brahmotsavam movie. Recently leading newspaper Indian express has published an article insulting mahesh babu. The article ignited a big uproar in the mahesh fans, immediately the Indian express has fired the person responsible for the article and published sorry article on the next day as per mahesh babu fans demand.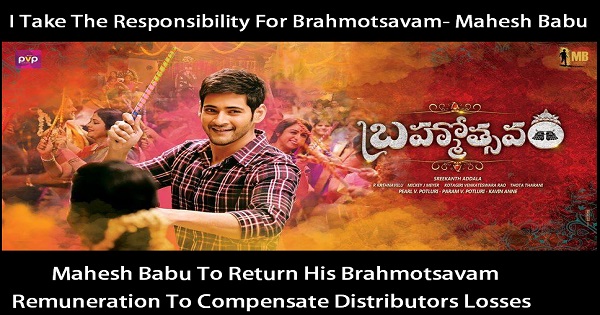 Must Read Indian Express Article On Mahesh Babu Floputsavam
Latest buzz on Brahmotsavam movie is that Mahesh Babu has agreed to return part of his remuneration to compensate distributors losses. As per the news Nizam distributor has suffered more than 50% loss.
Mahesh babu has returned his remuneration for Aagadu loss, he has assured that he will do the same for Brahmotsavam loss. As per the movie buzz Mahesh Babu received 18 crores as remuneration and 7 crore as Table profit as producer. Reportedly total 25 crores for Brahmotsavam movie.