West Bengal and Delhi Chief Ministers Mamata Banerjee and Arvind Kejriwal have tweeted in support of Bihar CM Nitish Kumar, encouraging people to vote in favor of him in the continuous Bihar elections. Banerjee tweet has ostensibly dispatched the poll season in Bengal in a serene manner. As opposition focused on her over the move, political experts interpreted it as a move to open doors at the end of the day for an anti BJP platform as she is securing that after the Bihar polls BJP will begin mass bombarding in Bengal, particularly of the party wells in these elections.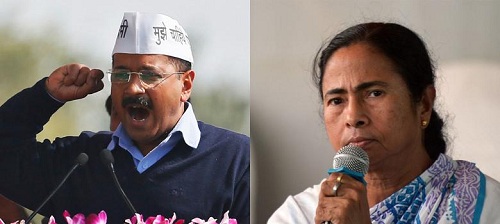 The Opposition in Bengal pointed out that the message was activated by three components playing in her mind CBI venturing up the Saradha probe,former Trinamool number two Mukul Roy dispatching his party and broad arrangement of central strengths in the assembly polls. Political investigator Shibaji Pratim Bose said, with her tweet the Bengal poll season has begun rolling. She knows that BJP will begin mass shelling in Bengal, on the off chance that it tastes success in Bihar. Regardless of the possibility that it doesn't, it will toss its weight in Bengal without a doubt.
On Tuesday Kejriwal tweeted as, "I appeal to the brothers n sisters of Bihar to vote to make Nitish ji the CM of Bihar."

Mamata on Sunday tweeted, "Request you all in #Bihar to please vote to re-elect @NitishKumar-ji as CM for greater need of our country & development in state."
BJP national secretary Sidharth Nath Singh said, Mamata spoke to Biharis to vote in favor of Nitish when her own particular voters don't trust her. Frantic measure surely.