Gorkha Janmukti Morcha (GJM) and the Trinamool Congress relations appeared to be worsen with each target the other with verbal barbs.
GJM president Bimal Gurung said that every time Chief Minister visit the hills she brings "grief" while Mamata Banerjee who came to the hills said that she will give up for life but cannot divide with the hills.
Bimal Gurung expressed his qualm over organizing of several development boards for the various section in the hills and said is an "attempt to divide and rule".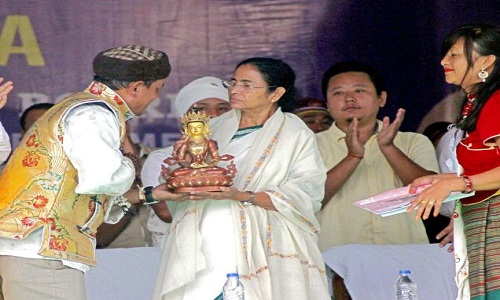 He further added that with setting up of these boards the purpose of autonomous body Gorkhaland Territorial Administration (GTA) is lost.
Mr.Gurung also said that three MLA's as announced earlier will kindly send their resignations stating  State government's interference in GJM and non-handling department to GTA.
She said that Darjeeling will turn into Switzerland. Has it happened," Mr Gurung asked.
GJM president who was in Delhi pointed that it is the Central Government which is taking care of development work hills and not the state.
This cannot continue, we will start protests (for Gorkhaland) in a democratic manner," he said.
GJM sovereignty few weeks ago praised West Bengal CM and she responded by withdrawing 115 cases against GJM leaders booked by the police during the Gorkhaland separate State agitation.