Manipal UniversityStudent Designes Waterless, odourless train toilets: Vinod Anthony Thomas recently participated in a competition. It was organized by Research Designs And Standards Organisation in Lucknow. Vinod was doing his 10th semester of Faculty Of Architecture (FOA) in Manipal University. He received second prize in the competition for designing the water less and odorless toilets in railways.
Vinod Anthony Thomas Designing Train Toilets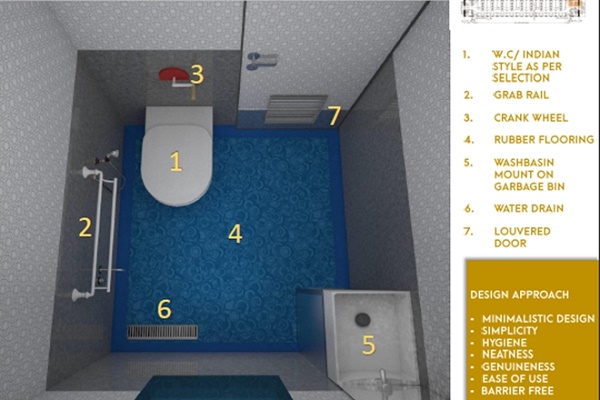 Vinod has implemented this innovative idea to reduce the problems faced by Railway department. This innovation has taken a positive response from the Prime Minister Narendra Modi's cleaning programme "Swachh Bharat Abhiyann". Designing train toilets is to eradicate the problems erased due to non flushing. One more is disposing of human waste on tracks which is unhygienic, unhealthy and environment unfriendly.
Waterless, Odourless Train Toilets
Vinod designed water less and odorless train toilets by substituting regular flushing system with conveyor. Use of conveyor is, it holds all the waste in a air tight sealed containers in to a bin. The bin is manually run by crank wheel. The wheel is arranged to decrease the wastage of water by the method of decomposition and evaporation of water.
Designing Of Railway Toilets By Vinod
Vinod won second prize in the competition and he was awarded with a price money of Rs 75,000. It is also shared by another designer Rahul Garg with the team member Saurabh Hans. With this new innovation we can travel longer distances in train without facing any problem. The director of FOA said that Vinod has brought honor to the Manipal University.