Sundar Pichai has brought pride to the country becoming the CEO of Multi-Billion dollar Company in the world. Sundar joined Google in 2004 and was known as 'Low-key manager' relentlessly worked on Google toolbar and successfully led the launch of Chrome Browser in 2008. Google has recently joined with parent company Alphabet, where Pichai Sundararajan who served as the head of Products and Engineering is appointed as the new CEO of newly formed Google.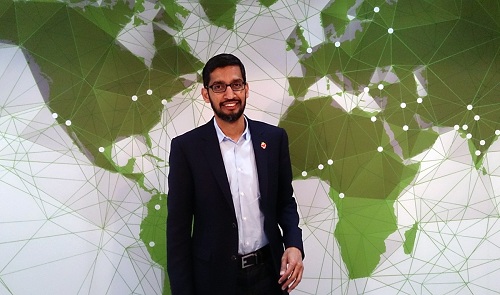 Sundar was born in Tamil Nadu in 1972, his father was an Electrical Engineer. He was attracted to the instruments used by his father, future Android boss got his first rotary phone in 1984. Google founders Larry Page and Sergey Brin expressed their wishes and quoted that, Sundar Pichai played a key role in company progress. Sundar was graduated from IIT Kharagpur and finished his masters at Stanford University. Google co-founders have profound confidence on Mr.Pichai to hand over $66 Billion worth company in his hands.
Mr.Pichai is a rare combination of great management skills and engineering excellence who is really good at making his work done from team. His journey inside Google has increased proportionally from an average employee becoming the Vice-President and Senior Vice-President of the company. He is in-charge of Google Apps, Gmail, Google Drive and whole Android itself.
Sundar Pichai spoke to media after his appointment, "For me, it matters that we drive technology as an equalizing force, as an enabler for everyone around the world. Which is why I do want Google to see, push, and invest more in making sure computing is more accessible, connectivity is more accessible."