Microsoft has today made significant announcements about the launch of Public cloud services from local data centres in India which will help the government and private organizations to develop confidence and to fuel comprehensive growth and boosts innovation.
As a part of the announcement, the company has launched three data centres in Mumbai, Pune, and Chennai and it will starts its operations after the resources are inaugurated by respective Chief Ministers of the states.
"The hyper scale cloud will empower governments, businesses and users and offer enough computing power that will support all their existing workloads," said Bhaskar Pramanik, Microsoft India chairman.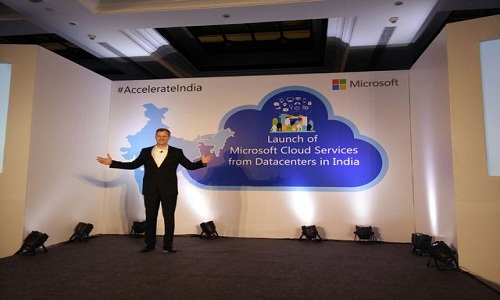 Microsoft Azure services is launching today, the commercial Office 365 services will be available from october 2015, Dynamics CRM Online services will be launched from the first half of 2016.
Microsoft CEO Satya Nadella announced that a cloud centre was setup exactly a year back, fixing it at nearly $2 trillion. The experts have appreciated the move, by acknowledging that local data centres would give much strength to challenge in the Indian market, especially in enterprises such as in Public sector banks and Financial Institutions.
"More organisations and governments will adopt the public cloud which will open up more opportunities for Microsoft," Tyler Bryson, general manager, marketing and operations, Microsoft India, said explaining the launch.

"Enterprise-grade performance, flexibility and hybrid capability, openness and trustworthiness are differentiating factors of the Microsoft cloud. In addition, comprehensive higher-level business services enable new business possibilities for customers," he added.
Public clouds is based on Standard cloud computing model in which a service provider makes resources which are made available on the internet. These cloud computing services either offered for free of cost or pay per use.