Following the release of Mac version of office 2016 , it is planning to release its next major version of Office  that matches with its Windows 10 operating systems. Microsoft has earlier announced that its new suite will be launched in September, however there is no confirmation on date. But a report from German Website WinFuture.de put a specific date of the launch. This German website claims that the sources inside Microsoft have provided them with a screenshot showing the release date of Microsoft Office 2016 is September 22.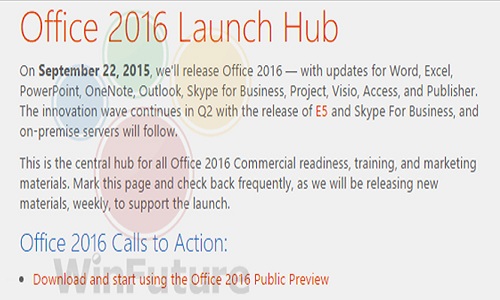 Microsoft has not revealed anything about features of Office 2016, but it is expected to be similar to office 2013. Microsoft next operating system is coming with its Finger friendly version of Word, Excel, PowerPoint, OneNote, Outlook, Project, Visio, Access, and Publisher. Office 2016 provides cloud storage of data, where the same files can be accessed across diverse devices. The User Interface and functionality is very similar to existing office suite for iPad. It also have  other features like real Time Typing, Skype for Business.
The company has not disclosed any information about pricing, but the details swirling are Home and student version of Office 2016 might be 130 Euros ($150).
Microsoft Office 2016 Preview version is publicly available to everyone with existing office 365 subscription for those who want to try before it is official launch in September.
Microsoft is likely to release the mobile app of office for windows 10 operating system later this year.