Rajasthan Congress Pradesh Committee president Sachin Pilot claimed that the Vasundhara Raje government abused set rules by giving away mines (653) to people on first come, first serve premise in a noteworthy mining scam.
The government did not take after the auction procedure, violated rules freely, while allocating the mines. The trick, worth more than Rs 40,000 crore, is one of the greatest scams submitted by the legislature was chosen by more than 66% dominant part in 2014 decisions, said Pilot. The allocation procedure of more than 650 mines is not transparent and the mines have been given freely, Pilot quoted.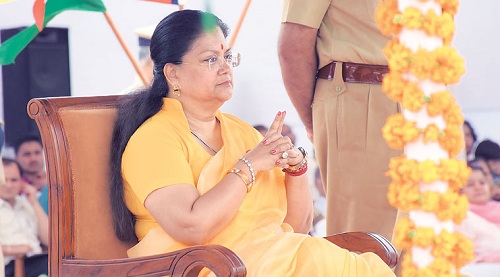 There must be numerous party government officials included in the scam, including boss clergyman Vasundhara Raje herself, said Pilot. Requiring a Supreme Court-observed Central Bureau of Investigation test, Pilot said that Chief Minister Raje ought to be evacuated for an unbiased probe.
It might be noticed that Rajasthan police had captured a senior official, central secretary of mines, Ashok Singhvi, on 24 September, passing the cover over a gigantic defilement embarrassment in the state's mines division. Prior, previous boss clergyman Ashok Gehlot had said that Singhvi is the driving force of the mine allotment racket.
Eight persons, including ousted IAS officer, were captured in the scandalous joining case including bribe of around Rs 4 crore on September 16 in raids conducted by ACB sleuths at Udaipur and Bhilwara.
In the meantime, IG (ACB) M. N. Dinesh told PTI that the agency would record charge sheet for the situation by November 10.