A mob in Sirmour district of Himachal Pradesh has allegedly lynched a man for smuggling cattle. According to police, victim named Noman (22) hailed from UP was a interstate cattle smuggler.
As per sources, five cattle smugglers were transporting five cows and 10 Oxen in a truck was spotted by local villagers in Sarahan who chased the vehicle. Perceived by the scene the truck driver has tried to smashed the vehicles from the back end. As the police and villagers were continuously following them they stopped the vehicle and offloaded the cattle from the truck at Lawasa Chowki area, source said that one cow died and four others were injured during they pushed them off from the truck. The five smugglers abandoned the vehicle and ran away to the nearby forest at Lawasa Chowki adjacent to Sarahan-Chandigarh road for shelter.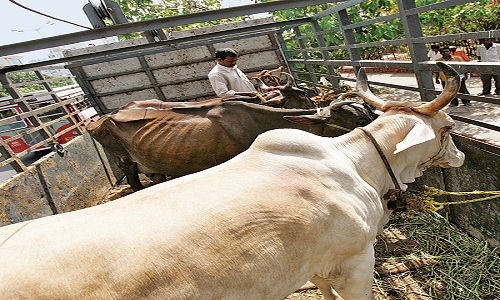 After several hours of chasing in the forest, the police have caught the five smuggler's with the help of the villagers. Noman was attacked by the villagers. The smugglers were taken to the nearby hospital where Noman succumbed to injuries.
A case has been registered under section 302 of IPC  on the basis of complaint by Noman's relative  Imran. Noman's body was sent to post mortem. The other four companions of  Noman identified as Gulfam (24), Salman (20), Gulzar (22) and driver Mohd Nishu (37) have been booked under different sections of Himachal Pradesh Cow Slaughter Act and the Prevention of Cruelty to Animals Act. and would be produced in local court. The truck has been seized by the police.
A similar incident has happened in Uttar Pradesh where a mob has lynched Mohammad Akhlaq Saifi over the rumours that his family had been eating beef. Cow butcher is banned in Uttar Pradesh.