Indian Prime Minister Narendra Modi met Bangladesh Prime Minister Sheikh Hasina to suggest a joint collaboration to collectively work on disaster management in both the nations. Hasina attended cremation ceremony of Pranab Mukherjee's wife Suvra after which she held a 30-minute meeting with Narendra Modi at his residence.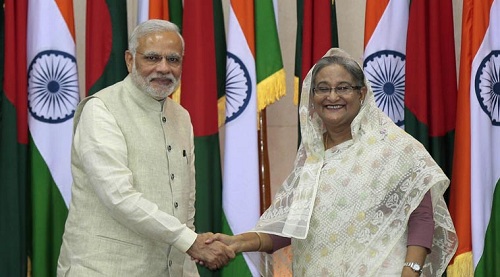 Narendra Modi's idea of discussing operations for disaster management as both nations coastal regions are prone to natural calamities like earthquakes, Tsunamis, cyclones and floods. In turn Hasina also expressed her intention to improve both nations market strategies and thereby reduce dependence on other nations. Modi elevated his gratitude by thanking Hasina for peacefully handling Land Boundary Agreement in June.
Modi has visited Dhaka in June and held talks with PM Hasina to wind up Land Boundary Agreement Bill which includes friendly exchange of land between two nations. Both the prime ministers have also signed up 22 pacts to strengthen nations collaboration in the future.
Narendra Modi has recently proposed about launching SAARC satellite in the coming year which will avail free data analysis for eight neighbour countries which will help farming, education and medicine. Modi and Hasina have also signed Bangladesh, Bhutan, India, Nepal (BBIN) Motor Vehicle agreement which would eventually strengthen regional connectivity.