Prime Minister 'Narendra Modi'  inaugurated Chandigarh International Airport for a short ceremony in SAS Nagar. The airport in anticipated to get operated on 9th October till then all 26 domestic flights will work from current airport. Modi after completing inauguration viewed entire new airport which is built over 308 acre land at Rs 452 crore cost in Jheurheri village.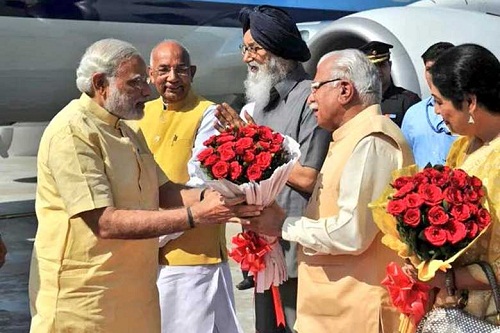 On this eve Punjab and Haryana Chief Ministers, governors of both states along with BJP and SAD leaders made their presence. Yet the airport is not given a name as Punjab and Haryana governments do not pass their mutual approval for it. Haryana wants to name it after Chandigarh while Punjab desire to name it after Shaheed Bhagat Singh.
It may take 2 years of time period for this runway which is under Indian Air Force control to upgrade wide bodied, full sized aircraft. Air traffic controller (ATC) along with Air Force is yet to decide creating runway accessible all around for civil aircraft. Other instant attention that has to be taken care is landing of aircrafts in less visibility. The current CAT-I instrument landing system is inefficient of aiding planes when visibility fall below 1,200 m. By 2017 this CAT-II system will begin its operation.
Traits of new Airport
Area: 308 acres
Cost Rs 452 crore
Distance from Sector-17 ISBT: 19km
Terminal building area: 53,000 sq m
Passenger capacity: 1,600 (1,150 domestic; 450 international)
Immigration counters: 8
Ticketing counters: 12
Check-in counters: 48
Car-parking capacity: 500