Prime Minister Narendra Modi will be inaugurating World Hindi Summit in Madhya Pradesh today. This year stands as the 10th anniversary of 'Vishwa Hindi Sammelan' which will wrap up by September 12 where Amitabh Bachchan will be attending as a chief guest. Modi himself has monitored preparations for 10th Hindi World Conference which will be conducted at Lal Parade Ground, Tenth International Hindi Conference is going to be celebrated after a gap of 32 years at Bhopal from August 10th. Conference motto is to spread awareness on Hindi language that it is treated as official language by constitution but not as National language.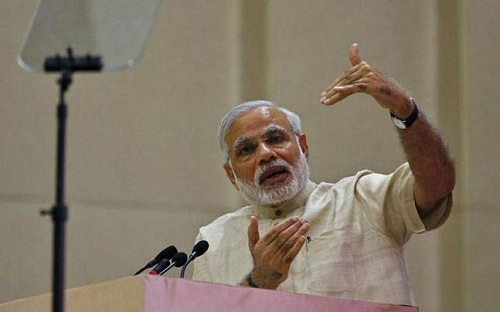 Scholars and individuals who love Hindi language will attend the conference from over 40 countries. Lal Parade Ground where the event is going to be organised is named as Makhanlal Chaturvedi Nagar who is a profound Hindi journalist and main venue area is named after Ramdhari Singh Dinkar. External Affairs Minister Sushma swaraj and External Affairs Minister for State General VK Singh(Retd.), Chief Minister of Madhya Pradesh Shivraj Singh Chouhan will be attending the International conference today.
Scholars participating in conference will be discussing various means to strengthen Hindi language and examining the efforts for its improvement. Home Minister Rajnath Singh will be honouring Hindi Scholars in the conference. Organizers are expecting a total of 5,000 participants from all over the world who will be attending the 10th World Hindi Conference.