Congress on Tuesday targeted Prime Minister Narendra Modi for his government's decision to discontinue postal stamps featuring Former Primer Minister Indira Gandhi and Rajiv Gandhi.
RTI query by Indian Express unveils that these two postage stamps launched by Department of Posts in December 2008 as a part of event titled Builders of Modern India have been abandoned.
"This depicts that hatred of Prime Minister Narendra Modi and his government in seeking personal vendetta has reached its zenith" Congress chief spokesperson Randeep Surjewala said.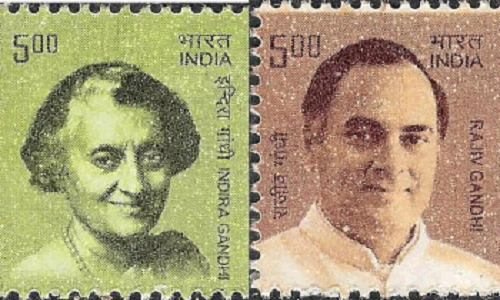 Besides, he said that the Modi government government had earlier changed the names of two awards Indira Gandhi Rajbhasha Puraskar and Rajiv Gandhi Rashtriya Gyan-Vigyan Maulik Pustak Lekhan Puraskar-by removing their names of former Prime Ministers.
"Coming on the heels of blatantly partisan move of diluting the essence of Nehru Memorial Museum and Library, this is yet again a black-hearted attempt on part of the RSS-BJP combine led by Prime Minister Modi to sidestep and expunge a powerful legacy of sacrifice and selfless nation building…," said Congress communication department head Randeep Surjewala.

"What is most reprehensible is the fact as to how low can the Modi government stoop in its sinister attempt to erase the memory of the two martyr PMs of the country,"
Surjewala further added by saying they are not the leaders of the congress party alone, but leaders of the entire nation "They reshaped and remolded India into a super power of 21st Century, strived for India's unity and integrity and made supreme sacrifice,"