After Motorola launched Moto G (3rd Gen) smartphone in India, and the company had three events  at the same moment in where it introduced another two new smartphones in Moto X range i.e. Moto X Style and Moto X Play. While the Motorola two smartphones Moto X Style will be at fingertips from September, and Moto X Play from August.
According to The Guardian.com, the new Moto X Style will be priced at £359, and its sibling Moto X Play will be priced at £299. However, the Indian prices and launch date are yet to be announced officially.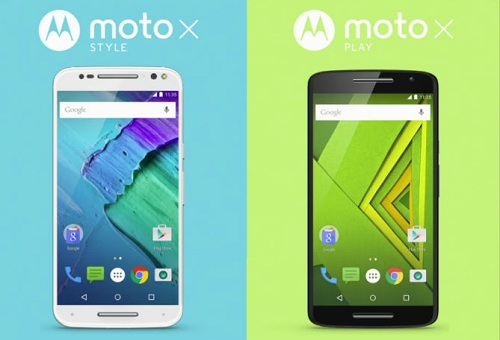 Moto X style comes with 5.7 inches full HD (1440p) resolution with a 520 PPI density. The device includes hexacore 808 Qualcomm Snapdragon processor clocked at 1.8GHz, along with 3GB RAM. It runs on Android 5.1.1 Lollipop and comes with three variants 16GB, 32GB and 64GB storage, all support external storage via microSD card (up to 128GB). The smartphone sports 21-megapixel rear camera with led flash and has a 5MP front camera. It packed with 3630 mAh battery, supports universal 4G connectivity.
Moto X Play features 5.5-inch full HD (1080p) screen resolution with 400 PPI density and powered by octa-core 615 Qualcomm Snapdragon processor with 1.7GHz speed, alongside 2GB RAM. Just like the Moto X Style, it offers little specks but this also featured 4G LTE support and runs on Android 5.1.1 Lollipop. As same as its sibling sports 21MP rear and 5MP front facing the camera. It comes with 3630 mAh battery. Where the Moto X Play will be expected in 16GB and 32GB variants only, and expandable via a microSD.
Both Moto X range smartphones are resistant from water damage, Motorola pointed out that fast charging supported in Moto X Style and Moto X Play with a bundled TurboCharger 25 and 15, which will get you 34% in less than 15 minutes. Check out Motorola Moto X Style and X Play latest mobile covers online available with purchase details stay tuned timesalert.com for more latest mobile updates.