On Tuesday around 11.30 PM all the passengers on 'Mumbai-Varanasi Kamayani Express' were resting but all of a sudden in next few seconds there was screaming and disorder. There was a train crash on the tracks in Madhya Pradesh near Machak river which killed at least 27 people and injured about 300 in that twin derail. On the day when train crossing a gutter it was raining heavily near the river that was 160km away from Bhopal.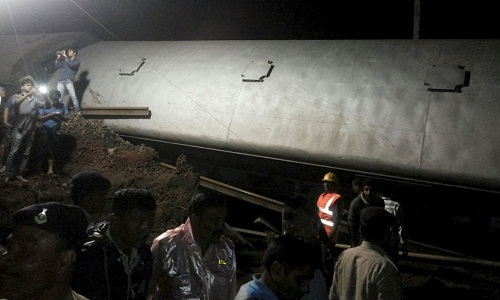 As the soil switched a flash flood crumbled the tracks, said Railway Chairman AK Mittal. Many trains passed safely on the same track before 10 minutes of the accident said Mittal. The flow of water eroded the culvert which was collapsed. Another train ie., 'Jabalpur-Mumbai Janata Express' derailed that contain four coaches and the engine which came in opposite direction after few minutes of the accident. There was little delay in the rescue operations because roads were damaged due to heavy rain and
rescue team needs to walk in the dark to reach the accident spot.
Since recent weeks, Monsoon rains wrapped the country flooding rivers and roads which asserted around 180 lives among five states. Railway authorities assigned helpline numbers to answers all the enquiries regarding the twin tragedy.
Railway spokesperson Anil Saxena said, "There was water on tracks and the bridge was submerged. So the last bogies of Kamayani Express got derailed. Simultaneously, on the other track the engines and coaches of the Janata Express also got derailed."