Animal husbandry minister Kusum Mehdele of Madhya Pradesh courted crisp controversy by kicking a small boy who arrived on his knees while begging her to give him a rupee amid her visit to Panna. The senior minister declined to converse with media when she was faced with footage. Mehdele was in Panna district and was sweeping a street close to a bus stand on Sunday afternoon as part of a cleanliness drive, when the teenager begged her to save a rupee, however rather she handled a kick on his head.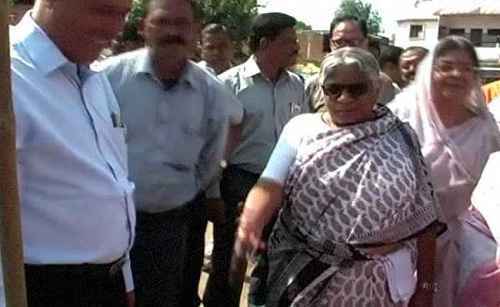 The kid was caught by the security who packaged him away. Senior authorities, including collector, SP and nearby BJP leaders were available, yet overlooked. It is not the first run through Mehdele has hit headlines for the wrong reasons. She was criticized for an unusual recommendation to the state forest department, looking for a law to permit people to train or keep big cats like lions and tigers as pets for protection.
Animal husbandry director R K Rokade, joint director O P Ode and deputy chief Dr Vimal Tiwari were among those present when Mehdele went by Minora sheep farm and cow ranch, spread more than 750 acres of land ie., 7 km from Tikamgarh. In May this year, two engineers were suspended in Shivpuri after Mehdele couldn't sleep in PWD circuit house because of outdated air-conditioners and complained of mosquito bites. Discom general manager was served with notice whereas everything was caught on cameras.