Two youngest mountaineers from Madhya Pradesh state have recorded a distinctive record to climb and reach Mount Everest base camp. A five year old boy along with his eight year old sister reached an altitude of 5,380 metres of world's highest peak on Monday morning.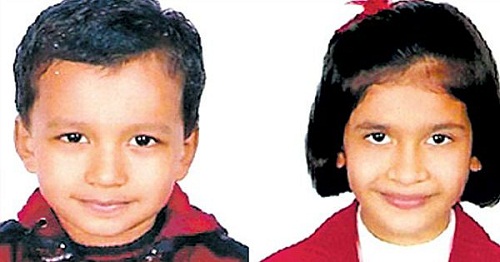 Besides the individual records of youngest boy and girl they are even youngest successful brother and sister to reach 5,380 metres. Kandarp is in Grade 1 and Ritvika is in Grade 4 at Little Angels High School in Gwalior. To commence the trek, both the siblings flew to Lukla on 2nd August, 2015.
Their father Bhupendra Sharma said, "Along with their individual record of being the youngest boy and girl to trek the base camp, they are the youngest brother and sister to successfully reach a height of 5,380 metres."
A professional lawyer Bhupendra stated they are the first ever family to trek the base camp and reach the Kalapathar peak of 5,550 metres which is the highest peaks from three continents, Europe's Mont Blanc (4,810 m), Antarctica's Vinson Massif (4,810 m) and Australasia's Puncak Jaya (4,884 m).
As they became the youngest climbers their names can be entered into Guinness Book of World Records and Limca Book of Records of India. In 2012, seven year old Aaryan Balaji reached Everest base camp and later in October 2014, five year old Harshit from New Delhi's GD Goenka School broken the previous 2012 record. Now this youngest mountaineers had broken all their records.
Arun Treks and Expedition organizer general manager Thukden Sherpa said,
"The expedition was undertaken to send a message to the world climbers that Everest trekking route was not damaged by the earthquakes that devastated other parts of the country."