Sushant Singh is going to storm at the box office with his latest movie M.S.Dhoni The Untold Story film this year. Sushant Singh Rajput is the best promising actor of Bollywood of this time. With his hard word, he rose from ordinary television star to a successful Bollywood actor. The music of the film is already a hit. Directed by Neeraj Pandey, studios produced by Arun Pandey and Fox Studios, the film also stars Anupam Kher, Disha Patani, and Kiara Advani in pivotal roles.
MS Dhoni Movie Breaks Baahubali, Sultan, Kabali Records
Of the Bollywood releases this year, Salman Khan's Sultan and Rajinikanth's "Kabali is the only films to break all the box office records. Kabali has failed to break Salman Khan's Sultan movie box collection. Both Sultan and kabali failed to break Baahubali records which collected 600 crores. MS Dhoni Movie review getting positive talk all over India.
It crossed the Screen count of Salam Khan's "Sultan" which has 4300 screens and Rajinikanth's "Kabali" Screen count of 4200. We already know the Box office records created by both "Sultan" and "Kabali" at Box office, so imagine how many records "MS Dhoni: The Untold Story" will break with this Record release. As we all know, after opening weekend, Kabali has collected a whopping amount of 110s crore at the Indian box office. Check out the list of latest Bollywood movies opening day collections which are released in this year.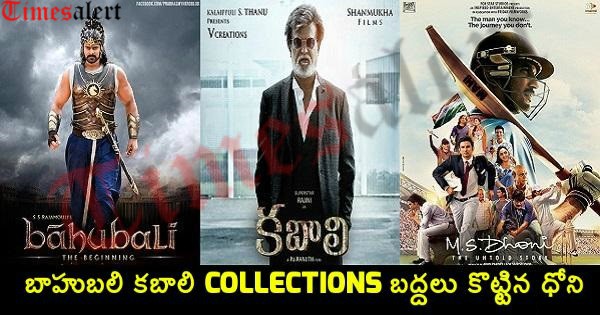 Top Indian Movie 1st Day Box Office Collections 2016
Kabali: Rs 48 crore.
Baahuballi: 40 Crore
Sultan: Rs 36.54 crore.
Fan: Rs 19.20 crore.
Housefull 3: Rs 15.21 crore.
Rustom: Rs 14.11 crore.
Airlift: Rs 12.35 crores.
M.S.Dhoni, The Untold Story, has a huge budget of 104 crores which includes the amount paid to the captain cool i.e. 45 crores, for his biopic and being a part of movie promotions. With its large screen-counts, the Neeraj Pandey directorial is estimated to collect Rs 20 crores on its opening day. Makers of M.S.Dhoni The Untold Story have sold the satellite rights for a whopping amount of Rs.55 crores, which is higher than the amount paid to superstar Salman Khan's movie.
MS Dhoni The Untold Story Movie First Day Collections
The makers also received an additional amount of 20 crores from marketing tie-ups. It is also heard that a Hollywood production house has bought the English rights of MS Dhoni The Untold Story from director Neeraj Pandey & Fox Star Studios at ten crores. With all these earnings, the movie has collected Rs.100 crores before the release and is roaring to take the box office by storm
MS Dhoni The Untold Story a will be releasing in several languages Hindi, Telugu, Tamil e.tc, except for Marathi and Punjabi. This, in turn, will help the film to gather audiences and fans from all over the country. They can watch the movie in their language.
This film is considered to be the most awaited film of 2016. Fans of both Dhoni and Sushant Singh are waiting keenly to witness the phenomenal performance of not only Sushant Singh and to know the struggle that M.S Dhoni had to go through in his life to reach the place where he is now.
1st Day Collections: Coming Soon.
MS Dhoni Movie Public Talk Video