With three films hitting the cinemas, this time again the director and actor duo, Sabbir Khan and Tiger Shroff are again coming with Munna Michael a romantic and action thriller. After Heropanti and Baaghi this will be the third film of Tiger Shroff and director Sabbir Khan together.
Munna Michael First Look Poster 
The movie Produced by Viki Rajani and Nawazuddin Siddiqui will be seen in the prominent role. Nidhi Agerwal, a Bangalorean model, is making her Bollywood debut with this movie. She will be playing the love interest of Tiger Shroff in the film.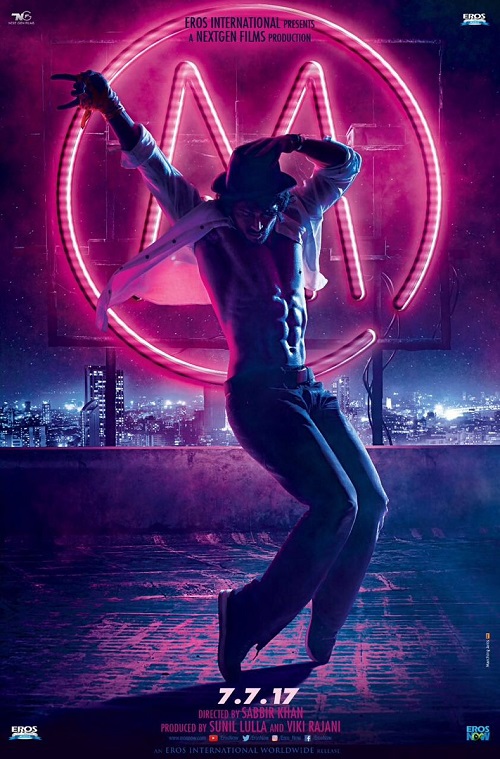 This movie planned to release on July 7, 2017. Heropanti star Tiger took in his Twitter account shared his first look from the film. In this new movie, Tiger is going to play the role of a street kid who has a dream of becoming a dancer like the King of Pop Michael Jackson. Tiger shot is a big fan Michael Jackson the king of entertainment. This will not be the first time actor is expressing his gesture of love to his hero, the King of Pop he has also released a video August 2014 to pay tribute.
Munna Michael Movie Trailer
In this poster of forthcoming movie Munna Michael, we can see well toned eight pack abs of Tiger Shroff. Tiger is considering this film as the toughest film of his career. In this movie he will be seen copying the MJ style of moonwalk', `toe-stand,' `feet shuffle,' `MJ spin,' `anti-gravity lean,' `side slide,' `circle-slide,' `the bad train,' `jacket throwback' and the `robot' step.
Director Sabbir Khan, in his motive of giving an audience a realistic view of Mumbai nightlife has set up a big set in Mulund surprisingly in the same area where Actor's father Jackie Shroff lived his life. For a song in this movie, tiger shroff and our Bollywood team has re-created a dance an American choreographers dance videos.
Tiger Shroff is famous for his stunts and dancing skills is know has a company of leading and well-known actor Nawazuddin Siddiqui, we all are aware his of work, beginning with a serious role and moving into comedian he has an ace of almost all the types. Not only will you see him doing good acting but also dancing. You will-will see strive of perfect, skills. Competition, performance, or exhibition from both the side of tiger and Nawazuddin Siddiqui.
It will be more fun to watch and acknowledge the way Tiger and Director Sabbir is going to make us feel about this story of MICHAEL JACKSON. The last release of Tiger Shroff 'A Flying Jatt' film has failed to beat the success of 'Heropanti,' and 'Baaghi'. The Bollywood actor has now released the first look of Munna Michael has created excitement and buzz among his fans and entire film industry.