Upcoming Tamil Movie Nagarvalam First Look Teaser Trailer has been released. It is written and directed by Max. The film features Balaji in the male lead character. Music of the film is formed by Pavan Karthik. This is a Tamil Romantic Love Story that highlights the beautiful theme. Presently the makers have released Nagarvalam Movie Official Teaser Trailer to give a hint about the movie. The interesting part to the teaser release is, Vijay Sethupathi is releasing the Nagarvalam 10 Seconds Teaser at 6PM Today.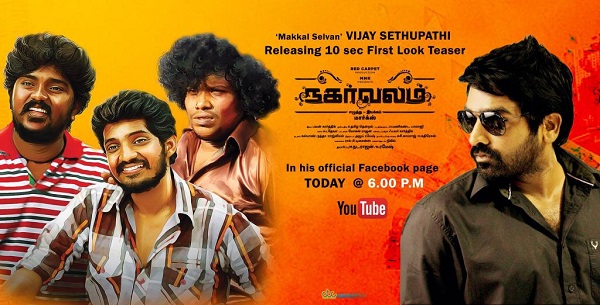 Hero J. V. Manikanda Balaji worked as a film editor in Kollywood. He is very well recognized as the son of stunt choreographer from Tamil movies. The Actor got himself consistently been visiting the sets of movies and built up an interest in film-making. Initially, Balaji started working as the assistant editor with editor Anthony. Later he joined as associate editor at Praveen K. L. and N. B. Srikanth and worked for almost 24 movies with them. He got a chance to edit Kuthoosi, starring Dhileepan earlier. In 2015, Udhayanidhi Stalin gave him the chance to deal with the production of Manithan which was released in 2016. Presently he is working for small budget movie Nagarvalam. Check Out Nagarvalam Movie Official HD Teaser today.
Makers are ready to launch the Nagarvalam Movie First Look HD Teaser and approached Tamil Successful Actor Vijay Sethupathi. The actor immediately accepted and give green signal to launch the 10 Seconds Teaser. Look at Nagarvalam Movie Teaser Trailer from here. Nagarvalam is touted to be a Pure Love Comedy Drama with required Sentiment Portion. Pavan Karthik has composed music for the film. Each tune he composed will give a fresh feel. Director Mark x who has even framed a story by himself is immersed in making this flick a decent hit.