Nawazuddin gets accolades for his role in'Manjhi' where a beloved husband breaks entire mountain for his beloved wife who needs medical attention. Real life hero Dashrath Manjhi's tale looks like a fiction, his love on her wife propelled him to take down mountain single handedly. 'Manjhi' director Ketan Mehta says movie elucidates 'Power of Human will' which was the core idea to take up the project.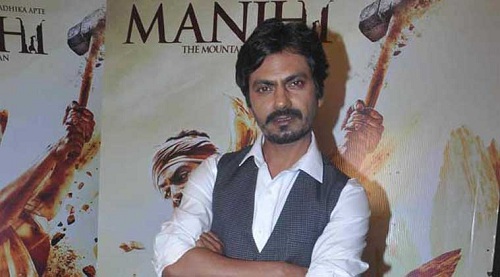 Nawazuddin spoke to media and expressed he do not believe in luck and termed his journey to get to fame in Bollywood was not less than breaking a mountain as 'Manjhi' did for his wife. Nawazuddin plays the character of 'Dashrath Manjhi' in the movie 'Manjhi: The Mountain Man' and quotes that its has taken at least 15 years of time for me to establish as an actor and it is the reason I believe in hard work rather than luck.
During the filming Nawaz spent at least a month in the Village to know what villagers felt about real 'Manjhi' and his struggle over the years.
Nawaz said, "Manjhi, has given me so much pressure and grief during the shoot, but I've fallen in love with the end result."

Delhi CM Arvind Kejriwal tweeted after watching movie," Manjhi, the Mountain Man is simply superb. ये दिखाती है कि इंसान ठान ले तो पहाड़ भी तोड़ सकता है। V inspirational. Youth must watch it."
Last week preview copy of the movie was leaked online, movie sources are not at all worried as the feature spread over was incomplete and unedited.