Yesterday NDA government brought up integrated forefront among oral demands urged by few parties on sharing seats in coming Bihar polls. But vital issue on share of seats was not discussed at joint meeting chaired by BJP president Amit Shah. An Announcement has been made by Union Minister on 'Seat-Sharing', that is decision might be taken within a week dismissing any dispute between the associates over issue.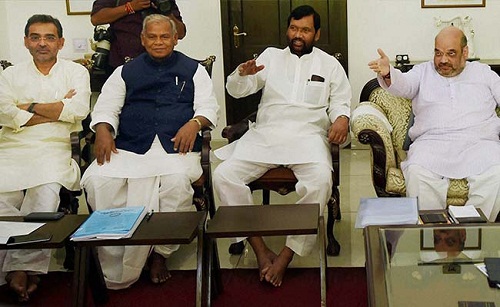 BJP deploy LJP chief Ram Vilas Paswan said, "As far as division of seats is concerned, it will be announced in a most amicable manner soon. It was not discussed today. We talked about our campaign and NDA will win with two-thirds majority in Bihar."
Classifying Sunday's rally in Patna organized by Swabhiman a flop show, Mr. Paswan stated it was a rude insult to Congress chief Sonia Gandhi who spoke in front of Chief Minister Nitish Kumar, RJD chief Lalu Prasad and JD(U) chief Sharad Yadav. When questioned him about RLSP demand on BJP must contest only 102 seats and vacate 142 for its confederates, he said other than authorized party leaders no statements will be produced by other leaders on the issue.
To boost and join NDA parties campaign, meeting also decided the campaign material of several constituents to give required space for leaders of allies. The seat-sharing decision will be announced by 6 to 7 September said Secular HAM leader and former Chief Minister Jitan Ram Manjhi. After the rally of Prime Minister Narendra Modi tomorrow in Bhagalpur, allies will conduct talks over it. When Mr. Paswan asked about who might be their chief ministerial candidate, he replied any A, B, C picked by Modi will be accepted.