Bathukamma festival celebration is soon arriving and people proceeding on almost 2.5 km-long Necklace Road can appreciate the magnificence of flowers flourishing up and down the railroad track. The Hyderabad Metropolitan Development Authority (HMDA) urban ranger service wing is creating 'Bathukamma Trails' at an expense of around Rs 50 lakh.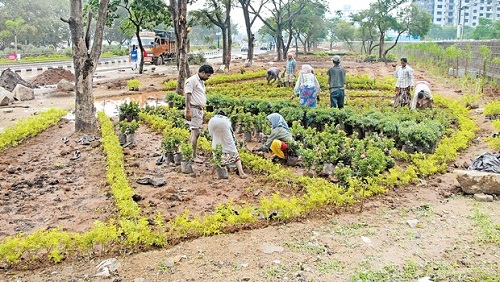 HMDA authorities said that approximately 10 to 15 mixed bags of flowers utilized for making Bathukamma which are regular blossoms in nature like Gunuka (Celosia), Banti (Marigold), Tangedu (Tanner's Cassia), Chamanti (Chrysanthemum), jasmine, Senna, hibiscus, Katla, Teku blossoms, stick bramble, Ipomoea, which bloom in this season in different lively hues the whole way across the uncultivated and fruitless lands will be planted all along the range. Aside from these regular blooms, another 15 to 20 assortments of flowers like roses, lilies, ixora, begonia, bougainvillea, dahlia, hibiscus, lantana heliconia meanwhile petunia, orchids, passiflora, plumeria, and other flowers plants will likewise be planted.
For Bathukamma celebrations work is going rapidly and endeavors are being made to finish around 60 pc work, ie from Necklace Road railroad station to Jal Vihar. The remaining work from Jal Vihar to PV Ghat will be finished once the Hyderabad Metropolitan Water Supply and Sewerage Board (HMWSSB) finishes laying of sewerage pipelines to occupy sewage and mechanical water to the downstream Hussain sagar surplus nala. HMWSSB is laying enormous size sewerage pipelines to redirect the industrial waste originating from Kukatpally nala to the downstream of Hussain sagar surplus nala. At present, the untreated water and waste is released the Hussain sagar lake.