Nepalese police today forcibly expelled the upsetting protesters from their sit-in spot on critical Miteri Bridge at Indo-Nepal border opening the Birgunj-Raxaul fringe point following 40 days. The protesters at first flung stones towards police later began evacuating them early today. They were in the long run pursued away by police. Nearly 170 cargo trucks entered into India from Nepal after the fringe was opened.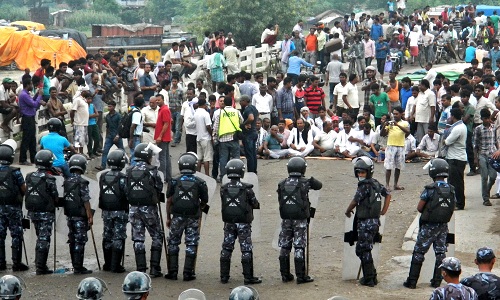 On the other hand, no trucks have gone into Nepal from the Indian side till now. Madhesis who speak to the interests of the Indian birthplace occupants of Nepal's Terai area (fields) have been protesting near the major Nepal-India trading point close Raxaul, through which around 70% of bilateral trade is finished. Around 100 policemen at around 3 am raided the bridge, used their sticks on the protesters and burnt their tents whereas 12 protesters have managed injuries.
More than 200 Indian trucks, stranded for around 45 days on the Nepal side of the border because of the protests, have figured out how to traverse to India. But on the Indian side, a huge number of trucks have still not made it to the next side in two months. The significant demand of the Madhesi Front are to re-draw the outline of the government provinces and consideration of more rights and representation to the
Indian origin Madhesi people. The other demands incorporate affliction status to those killed amid late protests, free treatment to the injured, compensation to victims families and withdrawal of security powers from Terai locale among others. However, India says it has nothing to do with bar and it is dependent upon Nepal to discover an answer and included that the Indian truckers are worried about their security in Nepal.