Nobel Peace prize winner Kailash Satyarthi has been felicitated with Harvard University's renowned Humanitarian Award for this year, identified for his work in the field of child rights and discrimination of child slavery. Satyarthi is the first Indian to receive this award. This announcement was made on Wednesday and the award ceremony will be scheduled at Harvard University on October 16.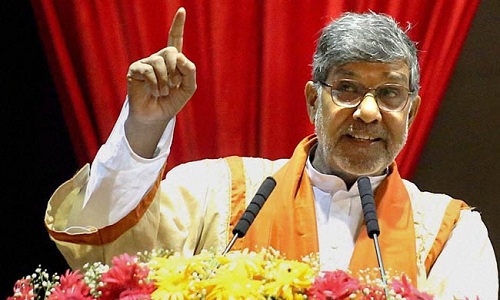 This award will be given annually by the prestigious university for those individuals who improve the quality of the lives and inspires people to achieve greater heights. Recently he was succeed in including child protection and welfare-related clauses into Sustainable Development Goals (SDGs) of UN which hopes to end slavery, trafficking, forced labour and violence.
"I humbly accept the award on behalf of millions of left out children, for whose rights we strive to work for. Let us all pledge together to eradicate child slavery from the world, even developed countries, including the Unites States, have hundreds of slaves who are forced into labour, pushed into sex trade or trafficked into domestic labour. Undocumented immigrants, people in the margins of the society are pulled into a circuit of slavery," he said after accepting the award.
Besides that he is also supporting the cause of child reforms and ending all forms of violence against them. Earlier this award has been conferred to some notable person such as Former UN Secretary – General Kofi Annan, Boutros Boutros-Ghali and Javier Perez de Cuellar; and Nobel laureates Jose Ramos-Horta, Bishop Desmond Tutu, John Hume and Elie Wiesel; Ethel Kennedy and R C Gorman.