Spectators act of bottle throwing at the Barabati Stadium on second T20 International has gathered widespread criticism throughout the nation. Odisha Chief Minister Naveen Patnaik has insisted a probe into the incident. State Home Secretary will be looking into the issue and submit the details to CM as soon as possible.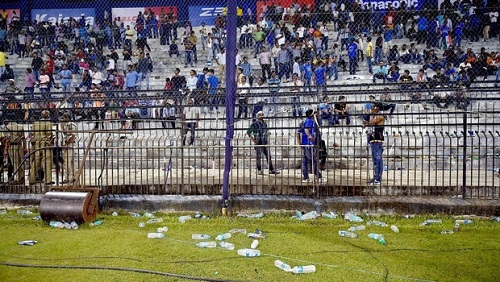 The Orissa Cricket Association has not received any notice from BCCI in accordance with Monday night illegitimate event done by viewers at Barabati Stadium where empty bottles were thrown on to the field during India Vs South Africa T20 match. India has lost early wickets and just scored 92 runs after which some crowd tossed bottles onto the ground fellow viewers joined the act and made it even worse. The game was stopped twice during the play initially for a duration of 19 minutes followed by 27 minutes. Umpires took the players away from crease .
Orissa Cricket Association (OCA) secretary Ashirwad Behera stated,I had an interaction with Anurag and I sought intention that they will be considerate, for this was only an unpredictable occurrence. I haven't seen anything like this in Cuttack and I can guarantee you we will be a great deal more careful later on in the future.
"Match referee Chris Broad will send his report to the ICC and the world body in turn might write to the BCCI on the issue. The BCCI will then seek an explanation from the OCA. We will tell them what we've to offer in our defence. South Africa captain (Faf du Plessis) said it was just a bad day in office and we also believe that," Behera said.