On Thursday a bad-to-the-bone lady Maoist Sarada Sabar (38) assumed name Sukumari who had went underground since 2012 surrendered in Rayagada region of Odisha before the neighborhood Superintendent of Police (SP) K. Siva Subramani. Prior she was a key equipped unit of Bansadhara Division of prohibited CPI (Maoist) organization while it was being driven by Sabyasachi Panda, Uday and Azad. Many cases identified with Maoist violence were pending against this woman who hailed from Pataguda village under Padmapur police station in Rayagada district.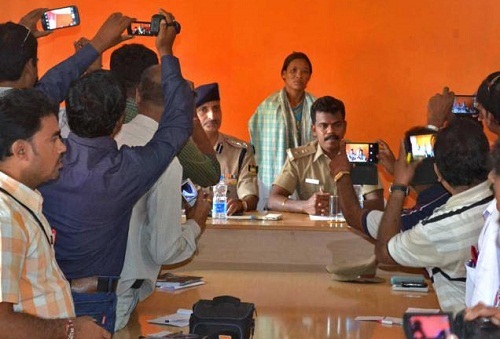 Disintegrating health condition, danger of trade of fire with security powers, frustration towards violent exercises and hardship has provoked her to return back to her village in 2012. She was likewise panicky of getting arrested by police for her past Maoist movement. Along these lines, to avoid arrest she had preferred to escape to Bengaluru to go underground. At long last she had chosen to return back to her home to lead ordinary life. Thus, she chose to surrender.
As indicated by police sources, she had been dragged into the brutal organizations due to her first marriage. At 18 years of age she had got married to one Prahlad Sabar. Following three months of marriage, Prahlad had got impacted by Sabyasachi and had joined the Maoist organization. Following two years Prahalad had convinced Sarada to become a Maoist framework.
Prahlad had been killed in an accidental firing by his naxalite partner while they were included in the murder of a temporary worker named Madhav Sabar at Narayanpur in Gajapati region. Later she had got married to a Maoist named Prakash Kimbaka. But Prakash had surrendered before police later. Sarada had married one Suku Sabar of Pataguda after that. She proceeds with this third marriage and wants to lead normal life once more. As indicated by the Rayagada SP, she would be restored according to standards of state government for surrendering naxalites.