A largest investigation team launched to save children from child peddling in Bangalore where the police force have rescued 190 children including 30 newborns from beggars in the city. About seven city police divisions that include Child Welfare department and members from women, Welfare Committee and doctors from different hospitals along with 10 NGOs initiated the 'Operation Smile' at around 10 am.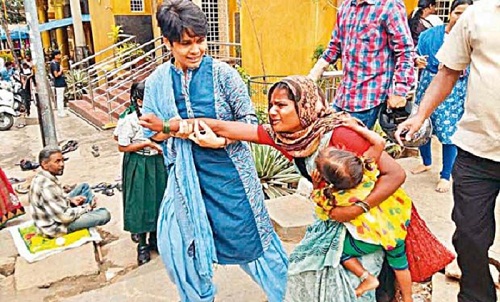 All the extricated children will be re-adopted at bala mandirs run by the state government. Due to scarcity of the space some of the children will be accommodated in NGOs. Investigations which were conducted revealed that the children are not with their family, so the police officers were directed to arrange a DNA test for both child and adult.
East Additional Commissioner of Police P Harishekaran said, "Malls, temples, railway stations, bus stops, theaters and major junctions in the city were common places where beggars using children were found."
If in case parents use children for begging, police will drive them to 'Child Welfare Committee' for additional action. Case will be filed on adults if children being used by people for begging who are not their family. About 65 women and 8 men were arrested who forced to beg the children.
Harishekaran stated, "We have information that in a number of cases, children are kidnapped, physically assaulted and forced to beg. Some are taken on rent at the rate of about Rs. 200 to Rs. 300 per day and, in some cases, given sedatives so that they are unconscious."