Legendary Telugu Singer P Susheela regarded with a World Guinness Book Record. This incredible singer ruled total South Indian cinema as a playback singer for languages like Telugu, Tamil, Malayalam, Kannada, Hindi, Oriya, Tulu and couple of different languages also.
 P Susheela Enters Guinness Book Of Records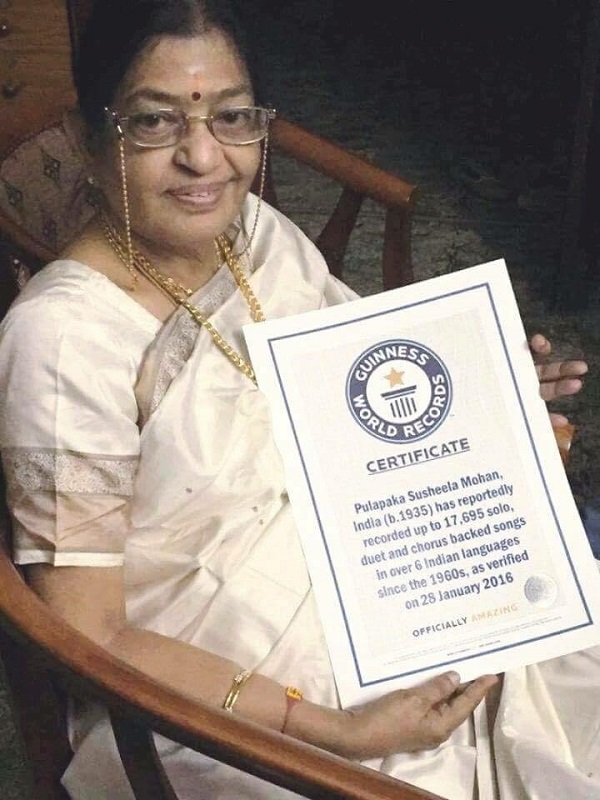 P Susheela today is honoured with the certificate of Guinness world record for singing precisely 17,695 songs through out her eminent career. The 80 year old singer is well known as Melody Queen and Nightingale of the south (Gana Kokila, Gana Saraswathi).
South Singer P Susheela Granted World Guinness Record
She was awarded with five national awards and many state awards. She worked as playback singer for almost 40,000 films. Her 16th National Film Award made Tamil Industry to win first National Film Grant. P Susheela was born on 13th November 1935 ad started her career in the year 1950.
63rd National Film Awards 2016
Nightingale of The south Guinness Record
Susheela has sung 19,873 Telugu songs, 10,676 Tamil songs, 5000 Kannada songs, 916 songs in Malayalam and 107 songs in other languages besides many other devotional Sanskrit and film songs.