A Japanese electronic company Panasonic was established in the year 1918 and is recognized as one of the largest electronic producer besides Sony, Canon, Toshiba and Hitachi. In 2012 Panasonic has been regarded as 4th largest television manufacturer in the World. Earlier the company name was Matsushita Electric Industrial Co.Ltd and in 2008 it was renamed as Panasonic Corporation.
Panasonic T44, T30 Smartphones Price in India
Panasonic launched new flagship in India named Panasonic T44, T30 Smartphones. The price of the mobiles are listed as Rs 4,290 and Rs 3,290 respectively. The customers in India need high end product with more efficiency, entertaining and connectivity. All these features are covered in Panasonic T44, T30 Smartphones and this was reported by Pankaj Rana who is the business head of Panasonic.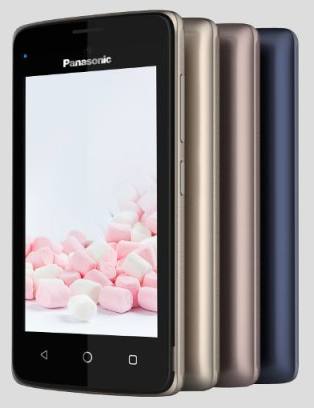 Panasonic T44 Smartphone Features
Panasonic T44, T30 Smartphones are having a display of 4-inch WVGA .The two devices are featured with 5MP rear camera and 2MP front camera. Processor used in both the smartphones are quad core processor clocked by 1.3GHz. Panasonic T44 operates on Android 6.0 Marshmallow along with Panasonic SAIL UI where as Panasonic T33 runs on Android 5.1 Lollipop version. RAM used in T44 is 1GB and T33 is 512MB. Inbuilt storage in Panasonic T44 is 8GB and can be extended up to 32GB using micro SD card slot. Internal memory in Panasonic T33 is 4GB and it is also expandable up to 32GB using SD card slot.
                                   Also Check: Motorola Moto Z, Moto Z Force Features
Panasonic T30 Smartphone Features
Customers who purchase Panasonic T44 and T33 smartphones are gifted with screen guard worth Rs 299. Both the mobiles supports dual SIM. Connectivity options in T44 and T33 includes GPS, Wifi, Bluetooth, FM, 3G and micro USB port. Battery used in T44 is 2400mAH and T33 is 1400mAh. T44 smartphone is available in three colors they are electric blue, rose gold and champagne gold. T33 is also available in three colors they are steel grey, metallic silver and metallic gold. Panasonic T44 measures 127.3 x 66 x 9.65 mm and T33 measures 126 x 64 x 10.3 mm.
Panasonic T44 Specifications
| | |
| --- | --- |
| Panasonic T44 | Specifications |
| Display | 4 inch |
| Resolution | 480×800 pixels |
| Battery | 2400mAh |
| RAM | 1GB |
| Memory | 8GB |
| Operating System | Android 6.0 Marshmallow |
| Processor | quad core processor clocked by 1.3GHz |
| Rear Camera | 5MP |
| Front Camera | 2MP |
| Dimensions | 127.3 x 66 x 9.65 mm |
| Connecticity Options | GPS, Wifi, Bluetooth, FM, 3G and microp USB port |
| Color Variants | electric blue, rose gold and champagne gold |
| Price |  Rs 4,290 |
Panasonic T33 Specifications
| | |
| --- | --- |
| Panasonic T33 | Specifications |
| Display | 4 inch |
| Resolution | 480×800 pixels |
| Battery | 1400mAh |
| RAM | 512MB |
| Memory | 4GB |
| Operating System | Android 5.1 Lolliop |
| Processor | quad core processor clocked by 1.3GHz |
| Rear Camera | 5MP |
| Front Camera | 2MP |
| Dimensions | 126 x 64 x 10.3 mm |
| Connecticity Options | GPS, Wifi, Bluetooth, FM, 3G and microp USB port |
| Color Variants | steel grey, metallic silver and metallic gold |
| Price |  Rs 3,290 |