Indian Billiards players Pankaj Advani and Vidya Pillai express their dejection on Sports ministry for failing to recognize their effort and biased interest towards other sports. Neither of the players Vidya, M.Chitra, Sourav Kothari were referred by Billiards and Snooker Federation of India for receiving Arjuna Award but were chosen eventually based on their recent efforts.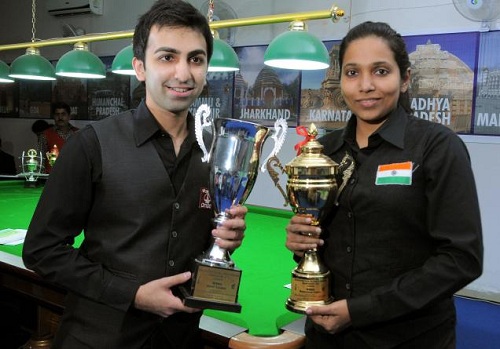 Government policies and incentives are planned to hugely favor Olympics and Asian Games events players. Advani expressed, We too work hard and represent our country and win medals and make our people proud. Why is there such a discrimination between Olympic and Non-Olympic sports. Advani has acquired 13th World title during a sports event last week in Karachi. He expressed his joy by congratulating Vidya and Varsha Sanjeev at meeting organized by Karnataka Billiards Association.
None of our coaches are not honoured with 'Dronacharya Award' and none of us are fully funded from Sports Authority of India because just we are not part of Olympics event. Vidya has won as many as 10 National titles which includes a World Championship bronze, Gold medal from World Cup team and her name was not even proposed for Arjuna Award. Advani was honoured with Rajiv Gandhi Khel Ratna Award in 2006 and Arjuna Award in 2004 making him the only Billiard player to ever receive Arjuna Award.