Ajay Brahmatmaj a famous film critic, journalist and a blogger is in Hyderabad for the interview of Power Star Pawan Kalyan on his upcoming movie "Sardaar Gabbar Singh".
Sardaar Gabbar Singh is gearing up for the release on 8th April 2016. The movie is also being released in Hindi at 800 screens in the Bollywood.
Pawan Kalyan Exclusive Interview With Ajay Brahmatmaj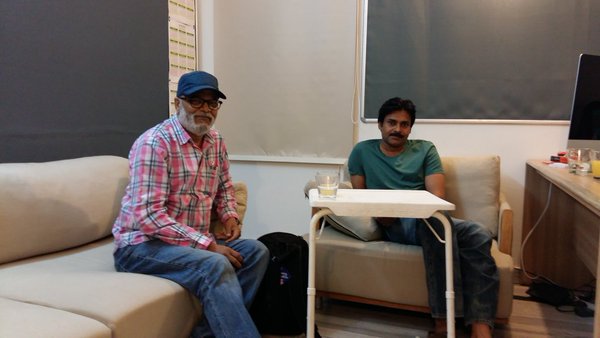 This movie has become the trending topic across the industry. Recently on 20th March 2016 audio was launched and theatrical trailer has been released.
Sardaar Gabbar Singh Theatrical Trailer
Power star fans have expected a power packed trailer but got disappointed with the Sardaar Gabbar Singh theatrical trailer. This is only a speculation that has been going around the social media.
Pawan Kalyan Ajay Brahmatmaj Interview Video
A famous movie critic like Ajay Brahmatmaj coming to Hyderabad and taking personal interview with Pawan Kalyan shows how much craze the actor got and expectation on his upcoming movie Sardaar Gabbar Singh. The details about the interview will be published at Jagran News.
Recently on 12th March 2016 another Bollywood famous film critic Anupama Chopra has also take an interview with Pawan Kalyan. This movie has now become the most searched topic in the google trends in India.
Pawan Kalyan is a very humble person and doesn't like publicity, interacting with media for a movie promotion. But this movie has become a exception because of the craze of his fans. Now the actor is coming out of his comfort zone for the promotion of the movie and interviews with the movie critics.
Salman Khan To Promote Sardaar Gabbar Singh In Hindi
After the Interview Ajay Brahmatmaj has stated in twitter account, that Pawan Kalyan is a great star a wise person and a professional in the works and he respects him. Check this space for more updates on Sardaar Gabbar Singh movie
Watch Pawan Kalyan Interview With Ajay Brahmatmaj Full Video
Stay tune Updated Soon