Pawan Kalyan's Sardaar Gabbar Singh has hit the theaters on April 8th on the eve of Ugadi and running successfully as One-Man Show where Power Star will be seen in every frame entertaining all his fans. After the movie release Tollywood News Channels have approached Pawan Kalyan to take an interview regarding the successfully run of the film Sardaar Gabbar Singh. Recently Pawan Kalyan has given his interview to TV9 CEO Ravi Prakash and Ntv Media Channel.
Pawan Kalyan Latest Interview With TV9
Power Star speaks about many things like his political views, matters related to film industry, AP special status including Kapu reservations and a lot many things that must be watched by everyone over there.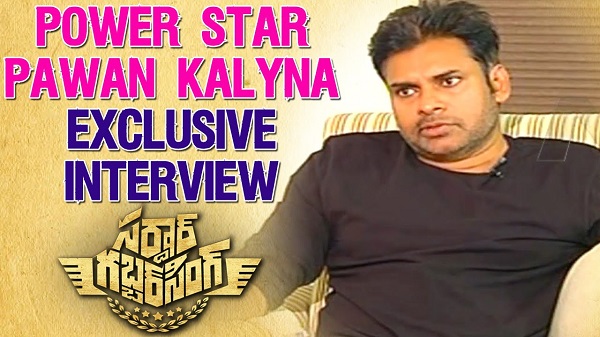 Sardaar Gabbar Singh directed by KS Ravindra well known as Bobby. This film is produced by Sharath marar and Pawan Kalyan under his home banners. Music is composed by Devi Sri Prasad. This movie stars Pawan Kalyan, Kajal in the main lead roles. Raai Laxmi, Sanjjanaa, Brahmanandam, Ali, Sharad Kelkar, Tanikella Bharani, and others will be seen in supporting roles.
Pawan Kalyan Interview With TV9 CEO Ravi Prakash
When Pawan Kalyan questioned about Sardaar Gabbar Singh result, he replied 'I'm happy. We have done the hard work. Its up to the audience to decide the fate'.
Pawan Kalyan Interview IBN Rajeev Masand Full video Watch
On questioning about 'Raja Sardaar Gabbar Singh' he answered, 'Yes, Gabbar Singh 3 will happen for sure. But, I can't announce the Director and when it will happen at the moment'.
Pawan Kalyan Latest Interview With NTV
Saying about Dasari's film, he explained 'I respect Dasari a lot as he did a lot of service to the Industry. I'm ready to work with him whenever he approaches me with a good story'.
Speaking about his next Project, Hero said, My next film will be a Faction-based Love Story directed by SJ Surya.
Pawan Kalyan Reacts On  Sardaar Gabbar Singh Movie
Speaking about his interference in the Director's Job, he made clear that, I would interfere in the work related issues if it is necessary what ever the Director may say.I can't dance like NTR and Charan and can only do 7 to 8 moments. I ask Director to pick one among them, so this might be the reason to say my involvement in Director's job. Watch Out Complete Interview Below.
Pawan Kalyan Latest Interview With ABN 
https://youtu.be/fAOq6ax0F4o
Pawan Kalyan Latest Interview With Tv5