Pawan Kalyan Revives Adhunika Mahabharatam : As everyone know Pawan Kalyan is a bookworm. He often read books in his leisure time. Once in his statement pawan kalyan stated that sometimes he forgets to shave as he very much keen in reading the books all days together. Pawan once told that he had read nearly five lakh books in his life time. His main interest is on revolutionary and Inspirational books.He usually quotes some Telugu Poetry from those books. Pawan now imparted his revive on a book named Adhunika Mahabharatham.
Pawan Kalyan Revives Adhunika Mahabharatam Book
The author of Adhunika Mahabharatam is Guntur Seshendra Sharma. This book was given to Pawan Kalyan from Trivikram Srinivas. Later on reading this he got inspired and called author's son. Pawan gifted him some amount of money which will support him to take more 25,000 copies of book. He also gave money for republishing the book, hoping every individual to read the book.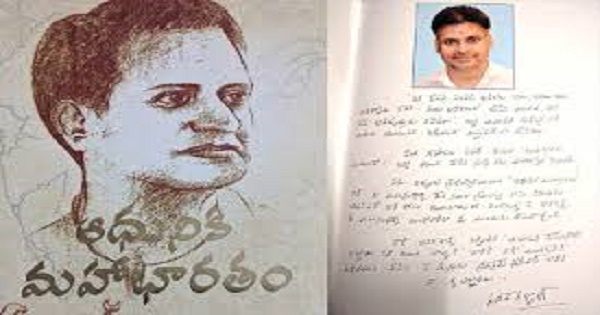 Pawan Kalyan Quotes About Book Adhunika Mahabharatam
Pawan Kalyan is more passionate to read Telugu literature. Recently he read a inspiring book named Adhunika Mahabharatam which was written by Guntur Seshendra Sharma. Pawan was gifted this book by Trivikram Srinivas who is also an ardent reader. Pawan was much inspired by reading this book and he desired to read this book by every human being. The above picture shows Pawan Kalyan hand written letter mentioning few quotes from the book were he got inspired from the writer.
NTR Janatha Garage Movie Official Teaser
On reading Adhunika Mahabharatam, Pawan Kalyan thanked Trivikram Srinivas for gifting the book and introducing a great poet to him. In addition to this he also thanked Writer's son for giving the chance to republish the book. Hoping that all the real fans of Pawan Kalyan would purchase and read the Adhunika Mahabharatam book.