'Pawan Kalyan' on interacting with farmers yesterday expressed his opinion against land pooling. Pawan alarmed phase of 'Dharna' in case TDP led Andhra Pradesh government determines to proceed with compelling land acquisition for state capital construction.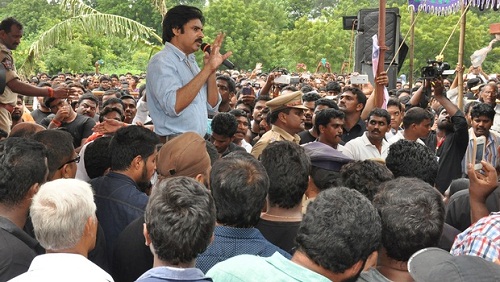 Actor turned politician addressed meeting at Penumaka village in Guntur district. He also castigated few ministers who commented against him and made his plea to government to withdraw issued notification for land acquisition in some villages. Pawan even suggested to form a committee with people like retired professors, engineers and Lok Satta leader Jayaprakash Narayan to resolve issues embracing new capital.
Farmers claimed that, government have not given any clarity on compensation to them and no security measures were taken in case of farmers.
Kalyan said, "I will stage a dharna if the government goes ahead with land acquisition. If the farmers give their land voluntarily, I have no objection. I am not against construction of the new capital. I request the government to be more responsible. Please withdraw the notification issued for land acquisition."
Talking about some ministers who made remarks on Twitter against this actor regarding land acquisition, Pawan said they do not have any right to pass comments against him and stated,
"I am a political ally to them (TDP-BJP combine). I am not a slave to them. I will not agree to whatever they decide. I would not hesitate to fight against TDP, if necessary, to protect the farmers right."