Kashmir is witnessing bandh as a result of killing of three 'Hizbul Mujahideen' youths after which dead corpses of deceased were recovered from an orchard near to North Kashmir's Pattan area yesterday. Public facilities and grocery stores in the city and rural areas were closed and roads were deserted . State has involved paramilitary forces to handle the situations across Kashmir. Some youth stoned at government vehicles on srinagar – baramulla national highway, Police swung lathi charge to disperse activists who were trying to make mess on the highway.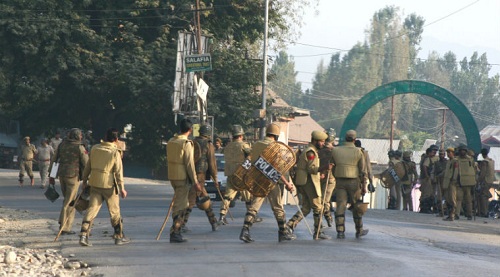 Hizbul Mujahideen terrorist group has stated that three youth namely Amir Rishi, Ashiq Wani and Naved Khan were brutally by special operation police and their followers in a closed cell.
Hurriyat Conference and the Jammu and Kashmir Liberation Front cells have ignited bandh on behalf of killings. Hurriyat chairman, Syed Ali Geelani has called the killings as a shame to the community and urged the people to involve in bandh protesting the issue.
Jammu and Kashmir Police have quoted, the three youngsters have joined terrorists group after they left home. Police even cleared that deceased youngsters were active participants of Lashkar-e-Islam , group of Hizbul Mujahideen group. How ever the activist group has denied the existence of Lashkar -e-Islam and government is trying to portray the killings as part of rivalry between militant groups.