On Saturday Prime Minister Narendra Modi expressed that we can't overlook the commitments of 'Iron Man' Sardar Vallabhbhai Patel towards the solidarity of our nation. PM Modi before flagging off the 'Run For Unity' march in the national capital said, 'After Chanakya, it was Sardar Patel who hung India together.'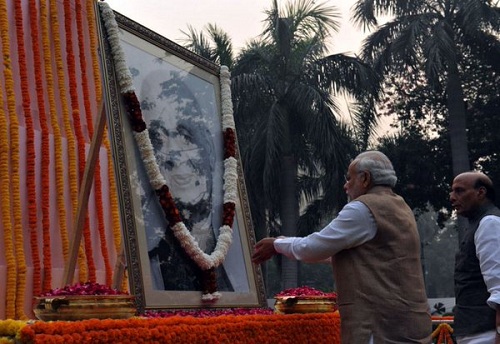 PM said, as we are recognizing Vallabhbhai Patel, we additionally recollect former PM Indira Gandhi this day. The occasion, which denote the 140th birth anniversary of Sardar Vallabhbhai Patel, was attended by around 15,000 people. Prior, the Prime Minister offered botanical tributes at Sardar Patel statue on Parliament Street alongside Chief Minister Arvind Kejriwal, Home Minister Rajnath Singh and Union Minister of parliamentary affairs Venkaiah Naidu.
The day is being celebrated as 'Rashtriya Ekta Diwas' (National Unity Day). Celebrations are likewise being sorted out in states which Union Ministers would be making their presence by attending various places. Modi said, Sardar Patel inspires the prospect that there is no family name or members connected to his legacy. During his administration, Sardar Patel handled the divisive forces splendidly, and bound the nation in unity. Nobody in nation has right to touch values of the nation. Sardar was not called iron man in view of newspaper section but rather as a result of his decisions. Britishers wanted the nation to crumble after they cleared out.