Many thousands of people gathered at Dubai cricket stadium where Prime Minister Narendra Modi addressed meeting and raised his topic on terrorism, 'New Look India' in his speech. UAE government which launched certain initiatives for Indian emigrants received PM Modi with their warm welcome. He sent a message to Pakistan from Arab country conveying tricks of 'Good Taliban and Bad Taliban' do not work from now.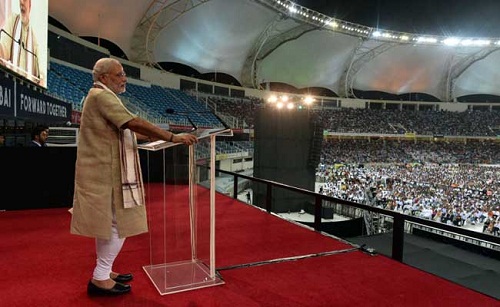 For permitting land for temple in Abu Dhabi, Modi asked all the people to honor UAE Crown Prince 'Sheikh Mohammed bin Zayed Al Nahyan' with a standing ovation. He then wished 'Happy New Year' in Malayalam to all Kerala people who live in Dubai in huge number. In his speech he even spoke about initiatives took on improving relationship between neighbors for Nepal which was devastated after earthquake, Bangladesh land boundary agreement, resolving Maldives water problem and his visit to Sri Lanka were some other topics discussed.
Modi stated, "We have raised our voice against terrorism in unison from this soil. This is significant. Those who are involved in terrorism should be punished. India has been a victim of terrorism for the last 40 years… The world has to decide whether you are on the side of humanity or on the side of terrorism. There is good terrorism, bad terrorism and the good Taliban and bad Taliban formulation will not work any more."
He then proceeded saying, now Indian government is evident everywhere and every minute mentioning quick decision of New Delhi to provide relief material to Nepal after earthquake. Later he met legislative officials to asked them to visit places where Indians reside and entreated to set up more schools in their country for Indians.