Chennai union textiles ministry is all set to organize an event at Madras University auditorium to celebrate first 'National Handloom Day' on Friday morning. So the venue was decorated by all means to welcome Prime Minister 'Narendra Modi' who will launch the first day celebrations. Security levels has been increased for PM Modi's primary visit to Chennai. Earlier he made his visit to Chennai in 2014 on his way to Sriharikota.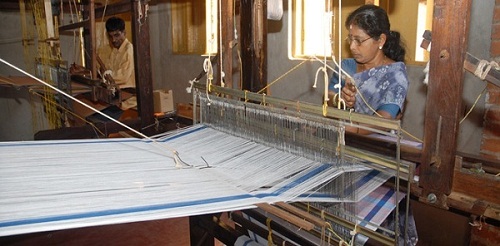 Anti-liquor campaign converged a step to restrict any patchy incidents. Modi was anticipated to arrive around 10.30 am for the function and reach Centenary Auditorium in Madras University. As per source, he might have call from Tamil Nadu Chief Minister J Jayalalithaa to her residence as soon as the event have an end. For former president APJ Abdul Kalam's funeral, Modi visited Rameswaram last week for which AIADMK leader Jayalalithaa could not attend due to her health conditions.
Modi on the event of 'National Handloom Day' will negotiate about National awards and Sant Kabir awards for 2012, 2013 and 2014 years to significant handloom identities. Drills were carried out by police and security personnel from Chennai airport to Madras University route, stippled with posters and cutouts of Modi's arrival as he is the leader of cleaner, better and newer India. Some of the posters were surrounded by Jayalalithaa also.
Madras University Senate House building was decorated by the students of National Institute of Fashion Technology with handloom weaves from all over the country for the event. Products from different parts of the country will also be exhibited at the venue.