Prime Minister's Office on Tuesday has interceded in the ongoing agitation by the military veterans to  to implement the one rank, one pension (OROP). This move made by the government after three ex servicemen begun their fast unto death.
The representative of former servicemen Lt-General (retd) Balbir Singh and Major-General (retd) Satbir Singh along with Army chief General Dalbir Singh Suhag as a mediator met Prime Minister's principal Secretary Nripendra Misra on Tuesday.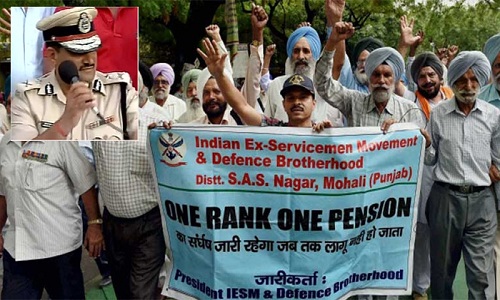 Though the center is committed towards the implementation of OROP, but abstained to declare a firm date and retained that OROP will implemented only after resolving technical difficulties.
The ex-militarymen also met Defence Minister Manohar Parrikar and asked to announce the firm date.
"We sought an assured date for implementation, as also that the date from which it will take effect will remain April 1, 2014, as was earlier agreed by the government," Maj-Gen Satbir Singh said.

Lt-Gen Balbir Singh added, "Mishra stressed that normalcy should be restored. Asked what he meant by that, he said the fast-unto-death should be called off. We told him that if there is a concrete assurance, we will stop it."

Even though there is no firm announcement from PMO the veterans decided not to escalate their agitation further. "We also tried to persuade Colonel (retd) Pushpender Singh, Havildar (retd) Major Singh and Havildar (retd) Ashok Chauhan to call off their fast-unto-death. But the three said they would go ahead with it due to the government's failure to implement OROP," said Col (retd) Anil Kaul, spokesperson of the United Front of Ex-Servicemen.
This demand for implementation OROP has been continuing from the past four decades, with this implementation the ex-servicemen and war widows group would be able to receive same pension  as officers and soldiers of the same position retiring now.
Grant of OROP would benefit 25 Lakh ex servicemen and widows in the country.