On Tuesday afternoon Chief Minister Nitish Kumar made promises aplenty while tending to an open meeting at Warisaliganj in support of sitting JDU Warisaliganj MLA Pradip Kumar Mahto who, by the way is going for a cap trap against his most despised adversary and two-term former MLA Aruna Devi, who is challenging this time on a BJP ticket.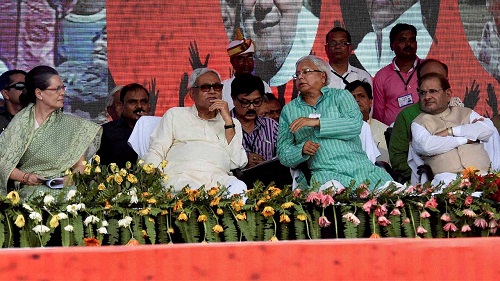 Nitish guaranteed a huge number of measures to people if re-elected to power, extending from electricity, toilet, tap water to each home before the end of next year. Money credit card to a limit of Rs 4 lakh to all financially weaker students envious to seek after higher studies in medical and technical institutions subsequent to finishing class 12, opening of various ITIs, polytechnics, engineering and medicinal universities, and month to month recompense of Rs 1000 twice for nine months each to unemployed youth between the age of 21-25. Giving a record of his role as CM, he said 66,000km streets and endless bridges and courses were built by his government. He ridiculed the NDA to explode them on the off chance that they didn't discover it a proof of development.
Assaulting PM Narendra Modi over his DNA comment against him, he said it was "ashobhniya" (unbecoming) of a PM to allude to a CM's DNA. Interestingly, Kaushal Yadav, the three-time JD-U MLA from Govindpur who has been moved to Hisua this time, furthermore his three-time JD-U MLA wife from Nawada who has been moved to Govindpur on a Congress ticket, were obviously missing from the group of leaders present on the dais. Rajya Sabha MP Ram Nath Thakur son of late Karpoori Thakur, Nawada RJD nominee Raj Ballabh Yadav and Pradip Mahto were present on the event.
During Nitish Kumar's speech a rambunctious section of young people droned "Modi, Modi" and waved shoes and slippers before an unmistakably aroused CM. No one was arrested. After the tempest died down, Nitish asked that the crowd bring their hands up in support on the off chance that they wanted him to proceed with his address. At the point when the crowd largely raised their hands, the CM proceeded with his speech.