Tollywood highly talented actor 'Prakash Raj' adopted a backward village named 'Kondareddypalle' from Mahbubnagar district showing his philanthropic side off screen. Most versatile actor went on discussions with IT and panchayat raj minister K T Rama Rao, son of CM K Chandrasekhar Rao.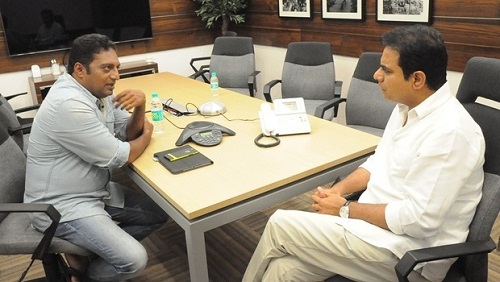 National award winning actor Prakash Raj is from Karnataka but distinguished in every South Indian language. Recently Telangana implemented a welfare programme called 'Grama Jyothi' where each and every gram panchayat need to prepare and implement plans for inclusive development of village. Outstanding villain turned real hero adopting a village taking required steps for its development.
Earlier Tollywood prince Mahesh Babu adopted Burripalem village in Guntur District which was his father superstar Krishna birth place in Andhra Pradesh. Later Telangana IT Minister suggested actor Mahesh Babu to adopt a village even in Telangana. Minister urged to adopt a village in Mahabubnagar district but anyway Prakash Raj made it in place of Mahesh.
Recently Manchu Vishnu son of former MP and actor Mohan Babu made an announcement to adopt 10 villages in Chandragiri mandal of Chittoor district in Andhra Pradesh. Finally this adoption epic is not only restricted to Andhra Pradesh and Telangana, even actress Shruti Hassan daughter of South Indian superstar Kamal Hassan, expressed her desire to adopt a village in Tamil Nadu to develop.