Indian President Pranab Mukherjee has addressed the nation and pointed the importance of education which will transform nation in every sect. Society plays a crucial role in attaining higher literacy rates, with which India can propel at a remarkable pace in development among other nations.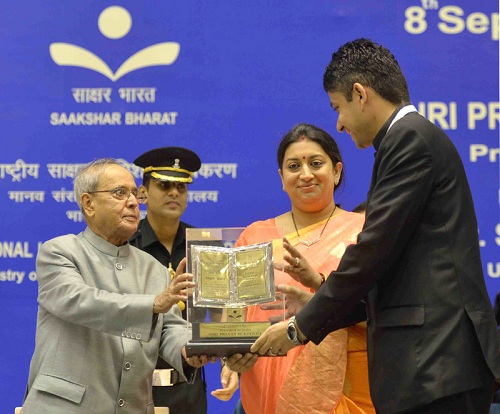 Mukherjee spoke on the eve of International Literacy Day celebrations in New Delhi. Literacy can enhance the overall development, women empowerment and sustainability. Government flagship programme started by Narendra Modi 'Swachh Bharat Abhiyan' and 'Saakshar Bharat' should be followed by every citizen of India. President embarked the social involvement to promote literacy rate to go with UNESCO Slogan, "Each One Teach One".
During India's first ever census in 1951 nation recorded literacy rate of 18 percent and recent census in 2011 registered 72.5 percent. This improvement is commendable but we have still more way to go as our neighboring nations have a cent percent literacy rate, if we want to compete in this trending world India should register 100 percent literacy rate.
"While we have fixed a target of 80 percent literacy in country by end of 12th Five Year plan, we have to ensure that the gender gap in literacy should not be more than 10 percent," Pranab Mukherjee said.
Union Education Minister Smriti Irani stated that government is planning to achieve 100 percent literacy in villages through Sansad Adarsh Gram Yojana by next year.
Minister said that, Parliament members have approached to identify certain villages under Sansad Adarsh Gram Yojana,till now 410 villages were identified under this scheme. Government is keen to achieve 100 percent literacy in villages who participate under the scheme.